Call or come in and see us to book an appointment or see the vet.
Dentistry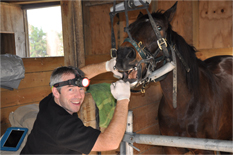 Our practice is lucky to have two highly trained and skilled equine dentists, Ray Lenaghan and Margaret Leyland.
Horses require regular treatment to "float" (level) the sharp edges that develop as a result of grain feeding. As well as this, periodontal disease is a common problem which, if untreated, leads to further tooth disease which can sometimes require extractions.
Ray and Margaret have all the latest equipment to be able to examine and treat all these conditions and provide the backup that only a Veterinarian is able to.
Artificial Insemination
(Unfortunately, not allowed for thoroughbred breeding)
If you are looking to breed your mare, artificial insemination should be considered as it has a number of advantages over natural mating;
Your mare does not have to be sent away to stud
There is less chance of injury or spread of disease
You have the choice of an enormous range of stallions within New Zealand or overseas
Better chance of getting some difficult mares in foal
The stud will arrange the semen collection and the best way of getting it to you depending whether it is fresh, chilled or frozen.
We look after the semen storage and handling at the mare end and time the insemination to correspond with ovulation. A number of ultrasound examinations of the mare's genital tract will be required.
Pre-purchase Exam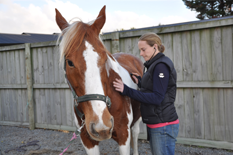 An important part of the horse industry, whether it be racing, eventing, show jumping, dressage or just pleasure riding, is the sale and purchase of horses.
Before the sale goes through, many purchasers request a pre-purchase examination (PPE), sometimes because there is a large sum involved or just for peace of mind.
Veterinarians work to a set protocol when we examine a horse for sale. There are five stages to the full examination, but the purchaser can decide what stages they wish to be carried out. The usual is stages one and two or stages one to five. Extra procedures can also be carried out such as x-ray, ultrasound, endoscope and blood tests. A full explanation is available in our Resource Centre.
Pre-purchase examinations are not easy, and an experienced veterinarian with special training is required to not only detect problems, but assess their significance, taking into account the proposed use, be it a child's pony or a ready to race thoroughbred.
We have veterinarians registered to carry out PPE's. Contact our clinic for more information.
Medicine / Surgery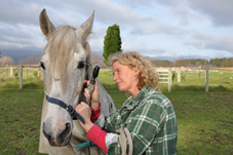 The horse is an amazing animal. Over the last few million years it has evolved on the prairies and tundra of North America to have tremendous explosive speed, strength, enormous heart and lungs, a digestive system to breakdown fibre and an extra-large eye positioned to see any creature that might be sneaking up.
Like any finely tuned piece of machinery, sometimes things can go wrong. We are here to help you when your horse or pony has a problem, such as;
Treatment of wounds
Attending colic or choke
Limb injuries, sprains and fractures
Dental health
Neurological problems
Breeding issues
Diseases
To assist us and your horse we can provide:
Vaccinations e.g. Tetanus, Strangles
Digital x-rays – at the clinic or in the field
Endoscopic examinations of the respiratory tract
Ultrasound of soft tissues
Blood tests