Call or come in to see us to book a farm visit or appointment.
Medicine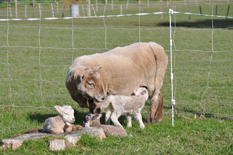 We are dedicated to servicing production animals and our aim, as well as caring for individual animals, is to increase the production of your farm.
The dynamics of on farm animal health and production are enormous as we face all the changes and problems that confront the modern farmer and veterinarian. Such things as drug resistance, especially antibiotics and anthelmintics, new diseases such as Theileria, changes in the economics of some farming practices as commodity prices and exchange rates change, and of course the weather.
To help overcome these, I think the word that sums up what is needed is efficiency.
Review your farming practices, can you be more efficient? To achieve this can we help?
To start, give us a phone call at Vets on Riverbank.
Dairy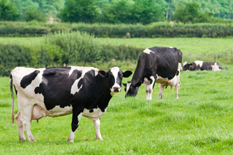 The dairy industry in New Zealand has come a long way since dairy cows were first introduced in the 1840's. Today's modern farms are part of an ever changing industry and although very high tech, in New Zealand they still rely on pasture which in turn relies on water and sunshine.
If you are old enough you may remember the old lean to cowsheds with wooden walk through bales and probably milking about 80 or 90 cows. Not anymore. The modern cowshed is rotary, milking perhaps 50 cows at a time with the herd up to a thousand cows or more.
We advise on all aspects of milk production and animal health. Such as:
Mastitis control and prevention including milk quality, Somatic Cell Counts, treatment, dry cow and teatseal.
Trace minerals, testing and treatment.
Reproduction. Cidrs, body scoring, metrichecking etc.
Calf rearing.
Medicine. Including vaccinations for BVD ( Bovilis), Leptospirosis, Calf scours (Rotovec).
Surgery, including teat wounds and cancer eyes.
Lameness. Prevention and treatment.
Go to our Resource Centre for information or call and talk to us.
Sheep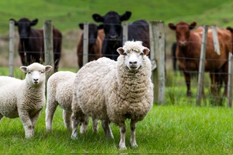 Sheep, along with dairy cows, have traditionally been the backbone of the New Zealand economy, and it seems that most New Zealanders growing up have spent time or holidays on a sheep or dairy farm. So it's not surprising that as soon as we get a bit of land, we want to run a few sheep. Whether you have a thousand acres or ten, the principals are the same, although small blocks do have some special problems.
We can assist with a whole farm health program no matter what the farm size. This will include:
Vaccination program and advice including, Clostridial (tetanus, pulpy kidney, blood poisoning.) Toxoplasma and Camphylobacter( anti-abortion vaccines ) Salmonella, Androvax (fertility ).
Internal parasite management plans (such as Barbers Pole worm) and testing for drench resistance.
Disease prevention. Discuss and advise on such problems as Yohne's Disease, Brucellosis, footrot, and metabolic diseases such as Sleepy Sickness.
Our Resource Centre has a number of articles about all these and more, so have a browse there, and contact us for any questions you may have.
Beef Cattle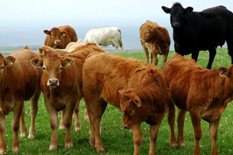 Samuel Marsden landed the first cattle in New Zealand at his mission station in the Bay of Islands in 1814.In the 1840s, more cattle, mostly Durhams, (Shorthorns) were imported from Australia. Cattle were useful grazing animals because of their hardiness, their ability to forage on rough pasture, resist wild dog attacks and as well as meat, they were vitally important as draught animals.
Beef farming today has several distinct features compared with other beef producing countries.
Beef breeding cows are run with sheep on New Zealand hill farms.
Most young fattening cattle come down on to easier country where they are fattened on pasture and not grain, primarily for the export market.
Surplus animals from the dairy industry are also used for meat production.
Cross breeding has been a feature of cattle breeding in New Zealand, firstly with the traditional English breeds (Angus, Hereford) and later with exotic, mainly European breeds (Charolais, Simmental).
If you have any problems, our resource centre contains a number of articles which may help you, otherwise please contact the clinic and talk to one of our vets.